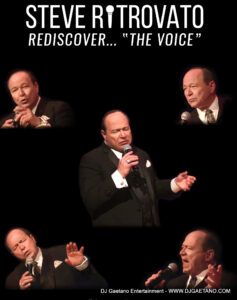 Steve Ritrovato is an International American Singer/Entertainer.
He is best known for incorporating his own unique interpretation to the recorded standards of Frank Sinatra, Tony Bennett, Bobby Darin, Dean Martin, and other great genres of music.
His effortless charisma, self-assurance and professionalism at concert venues, casinos, corporate and private functions, nightclubs, restaurants and at gala events, rank him among the best in the entertainment industry in the United States and Europe.
When Steve is not traveling or performing with the City Rhythm Orchestra, he is performing at local venues. Steve is flexible and usually can work within the venues budget.
Steve is a self-contained entertainer who uses professionally orchestrated background tracks. Also, he can provide any size orchestra to customize your special event.
Looking forward to the opportunity of performing for you.
Also, Steve can be found on YouTube and Facebook to view previous performances by typing Steve Ritrovato.