Presentation of your DJs set up is critical and the first impression your guests will have as they enter the room. You spent countless hours and money planning and designing your ballroom, your DJs set up should look just as thought out and organized.
We understand the importance of a sleek and sophisticated presentation and that's what sets DJ Gaetano apart from other DJs. We will pay close attention to setting up equipment, sound and lighting, making sure our presentation blends into your rooms decor. You will never see unsightly exposed wires or cluttered messy tables.
On line event planning is included with all packages as well as liability insurance and back up equipment.
---
Ceremony Services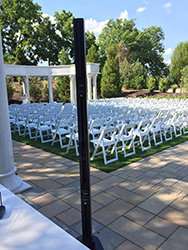 Bose L1 Compact Ceremony System. Compact, Discrete, and sleek. The Bose L1 delivers wide, even sound coverage throughout the Ceremony area and audience.
Ceremony Services Include:
1 Bose L1 speaker
Choice of 1 or two wireless hand held microphones or Lapels
Custom prelude and ceremony music
SILVER Package
Our Silver Package Set Up Includes: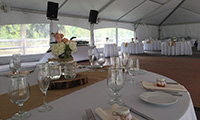 On Line Event Planning Services
4 Hours Continuous Music
Professional RCF Sound System (Skirted tripods to hide wires)
Elegant table skirting or LED glow skirt
Back Up Equipment on Site
Fully Insured
---

GOLD Package
This Package Includes: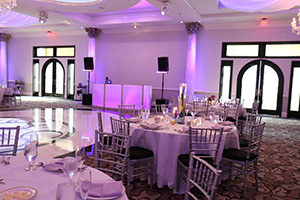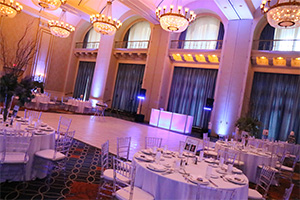 On Line Event Planning Services
5 Hours Continuous Music
Bose L1 Remote Cocktail Sound
RCF Sound System
LED Illuminated Frontboard
2 LED Dance Floor Lighting Effects
Back Up Equipment on Site
Fully Insured
---
RUSTIC ELEGANCE Package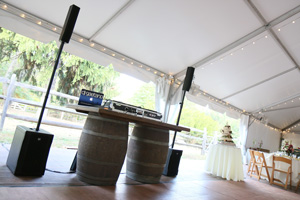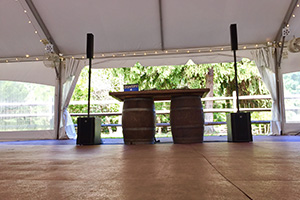 This is a great presentation for venues that have a rustic look. Perfect for farm weddings, historic estates or outdoor venues.
This Package Includes:
Wine barrels w/ wood bar DJ table
RCF Evox Sound System
2 Dance Floor Lighting Effects
Bose L1 remote cocktail sound (if needed)

online event planning
back up gear on site
liability insurance
---

PLATINUM Package (Most Popular)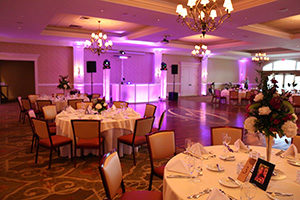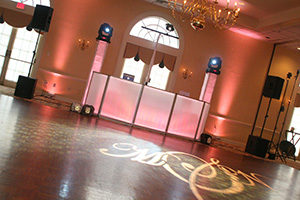 This Package Includes:
On Line Event Planning Services
5 Hours Continuous Music
Bose L1 Remote Cocktail Sound
Professional RCF Sound system with subs
LED Illuminated Frontboard (match the color scheme of your ballroom. Static color and sound active)
2 Global Truss Totems with Elation Design Spot 250 Intelligent Moving Lighting Effects.
DMX programming will allow us to spot Light or white wash your dance floor for special dances and cake cutting. We can also apply ambient effects to the dance floor, walls or ceilings with colors and gobos.
Haze or fog if applicable. (Recommended)
Back up equipment on site.
Fully Insured
---
MULTIMEDIA WEDDING Package
This Package Includes:
On Line Event Planning Services
5 Hours Continuous Music
Bose L1 Remote Cocktail Sound
Professional RCF Ballroom Sound System
LED Illuminated Frontboard (match the color scheme of your ballroom. Static color and sound active)
Two 75" Flat Screen Tvs with 4 Global Truss Totems
4 White ADJ Focus Spot Three Z Intelligent Moving Lighting Effects.
DMX programming will allow us to spot Light or white wash your dance floor for special dances and cake cutting. We can also apply ambient effects to the dance floor, walls or ceilings with colors and gobos.
Choice of First Dance Montage of displaying engagement photos
Parents dance montage videos with childhood & family photos
Dinner Slideshows including photos from your Ceremony (with cooperation from your photographer)
Custom on screen monogram as guest enter the ballroom
Live Dance Floor to Video screen camera feed
Live music video mixing
Optional social media feed with custom wedding hashtag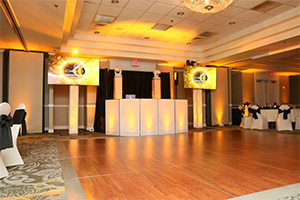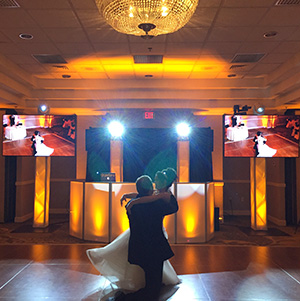 ---
Available Options Include: